Summary of the first Morita Therapy workshops in Germany and France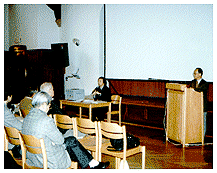 The first Morita Therapy workshops were held in both Germany and France from November 13 through November 22, 1997. Morita seminars have already been held very often in China, but these workshops were the first ones in Europe.
In Germany, contrary to our expectation, people had much interest in Oriental medicine and philosophy. There are more than ten Zen organizations in Heidelberg, and various opinions were actively exchanged in the workshop.
On the first day (November 17th) in Germany, the workshop was very well attended by many specialists such as psychologists and psychiatrists. The Germans who attended expressed their opinions or asked questions about the Moritist attitude toward nature and accepting reality as it is, fundamental ideas basic to Eastern philosophy. It appears that Westerners who are totally committed to the emphasis on intellect and science in recent Western medicine and philosophy may have some trouble understanding these Eastern concepts..
Schedule of the Morita Therapy workshops in Germany and France
Date
Country
City
Schedule
Nov. 15
France
Freiburg
All day: 1st day workshop
Evening: Welcome party
Nov. 16
France
Freiburg
All day: 2nd day workshop
Nov. 20
Germany
Hanover
Evening: 1st day workshop at the Neuropsychiatry
Unit of Hanover Medical College
Nov. 21
Germany
Hanover
Welcome Dinner Party & Speech
Nov. 22
Germany
Bremen
All day: 2nd day workshop at Bremen East Hospital
Evening: Party