[Experiences]
My ten years making the most of Morita in my life
By Ms. Sugako Yorita, aged 42. operator of a culture center in Hyogo Prefecture
I started the practice of Morita ten years ago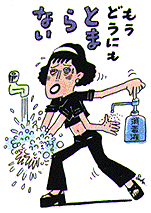 I am now looking out the window at an autumn scene. Rice plants have grown ripe again this year. The wind blows as if forcing the summer out, and the light looks so white as to make even shadows thin, illuminating everything. I joined the Life Discovery Society in the spring of 1976, and I started my practice of Morita Therapy principles in the autumn of that year. At that time, I was only a breathing creature insensible to any colors in the outdoor scene. I was a woman of hypochondriacal disposition. I couldn't interact with other people, worrying about my health or consciousness of death. It was in 1971 that I started fearing illness and death in an extreme manner brought on by my childbearing and the sudden death of a housewife, my next door neighbor. Then I became more and more hypersensitive to my body's condition, eating and cleaning house nervously worrying that I might be ill. Such at attitude caused me to pay more attention to my body, which led me to frequent hand-washing, gargling, sterilizing and so on, endlessly. "It's no good", I thought, and I made every effort to change my character. I read books on the subject, but this resulted in a neurotic inferiority complex and sense of isolation. For several years I spent all my time struggling between my obsessed self and my awakened self. Finally I felt thoroughly exhausted, and with all my strength I began to practice Morita Therapy.
Ten years have passed since then. At present, I run a school that teaches women how to wear a kimono properly and a beauty parlor, as well. Though I find some difficulty with living now and then, I previous obsessions such as nosophobia or oranthrophobia are gone. A deep "ego desirous to live better" and an "ego on the surface " serving to take care of daily matters are in harmony under the control of an "ego established by the Morita theory and practice". In this world there is strangeness. There are gentle persons and unreasonable ones. Also, in my heart, there is a good side and a bad side with jealousy, grudges, and neurotic tendencies. It took ten years for me to recognize this truth. Several years were required for the therapy to take effect, with my gradual acceptance of that very fact. I have endeavored to realize my true self. To my surprise, this effort is just what ordinary persons may take as a matter of course. To escape from the "mental captivity" is to become conscious of living one's life, enduring various hardships in a world full of absurdities.
Achieving one's objective and putting oneself in another's place
Now, I shall describe how I have put Morita Therapy into practice during the past ten years. First, I would like to report with thanks that I owe my success in the practice of Morita Therapy to my fellow members in the Himeji discussion group of the Life Discovery Society and to other people. Self-examination, worrying, youthful weakness, persistence, and a strong desire to live are said to be the characteristic features of neurotic persons. The "desire to live well" may be accomplished little by little by the practice of Morita Therapy in daily life. At this stage I could recognize the realities of myself and society.
Around 1976 I was exhausted and at the end of my resources. One of the senior members in the Morita group advised me to put myself in others' shoes and to serve the persons around me. I at once put the advice into practice by waking up early in the morning, sending my husband off to work, and cooking something easy to eat for my little children. I would have barely done such housework before, but the purpose then was different. During my struggle with illness I simply did the cooking with no other wishes or desires in mind. With Morita practice, the objective becomes "what kind of meal is to be prepared". That is, how can I produce nice meals for my small children? However, this is such a common task for a housewife that everyone takes it for granted. But at those times I praised myself for doing it and valued the result. On the recommendation of my friend I entered a school where they taught the proper wearing of kimono because I planned to attend my child's kindergarten entrance ceremony in a kimono. With my fear of others and of illness I was like a robot in the class. Seeing other students learning to wear kimono beautifully, I felt miserable because I could not wear kimono adequately.
If asked whether I desired to wear kimono properly, my answer would have been yes. Then I had to accomplish my purpose to wear a kimono well. So I used my hands and feet to attain my objective while leaving my mental conflict remaining as it was. In this way, though I was slower than my classmates, I was able to put on kimono by myself after one year. Such an experience helped me confirm the theory that separates emotion from action. The second year, when I was assigned a job as an assistant in the kimono school, I made an effort to teach students in a manner that they could easily understand. The students responded to my teaching with appreciation for my easily-understood lectures. I was delighted by their appreciation. In quest of further happy feelings, I continued the technical training for kimono dressing for three years until I became a lecturer. The next year, I entered a beauty school when I was thirty-five years old. There are two reasons for this move. For one thing, the chief lecturer in the kimono school told me that it is advisable for me to obtain a beautician's license in order to help brides with their bridal gowns. For another thing, I discovered my deep desire to become a professional. In order to be qualified to take the state examination for the licensing to practice as a beautician one must undertake a study of theory for one year and then practice in training for another year.
A shampoo girl at age 36
I graduated from the beauty school in the fifth year. . However, I had great difficulty in the practice because I would not touch the customer's hair for shampooing during the practical training and I was afraid of some customers and I could not look in mirrors in the beauty parlor. So I decided to avoid looking in the mirror and to use rubber gloves when shampooing. But an instructor of the beauty parlor caught me using rubber gloves. The use of rubber gloves is prohibited except for special necessary cases such as hair dyeing because rubber gloves may pull on the hair and cause inconvenience to customers. She scolded me harshly saying, "If you cannot put yourself in the customer's place when you work you will never be a professional. So, think well about what you want to do in the future." I had graduated from beauty school with good results of my written test, so I had been under a misapprehension that I knew everything about beauty treatment. When this instructor whom I had taken to be old-fashioned in her technique emphasized, "If you cannot put yourself in the customer's place...," I was greatly shocked. I knew that this ordinary beautician had engaged in her job with these principles for thirty years, and I felt shame at what I had done. I decided to complete the internship and obtain a certificate and take the state examination after all. On the next day I began technical training for shampoo treatment with the decision to refrain from using rubber gloves. The training was terribly distressing for me with my mysophobia. The object of the shampoo treatment is to remove dirt from the hair and head and to massage the head. We beauticians must move our hands and wash the hair efficiently within a limited time while giving satisfaction to our customers. Although I had obtained excellent results in the written examinations at school, things did not go satisfactorily in actual practice. I got a blister on the sole of my right foot where my body weight rested heavily, and I worked off the ridges on my fingerprints. One year had passed before I could satisfy my customers by doing a fine job. This shampoo girl at the age of 36 had begun to think fondly of her younger colleagues. This was because I had attentively watched not only myself but also the others taking the same course. And I had learned the treatment techniques as I assisted the chief and my seniors. Moreover, I had considered the convenience of my customers. I could confirm that my fixation on my symptoms was reduced while I was working together with my young colleagues who devoted themselves to learning the techniques and while I focused on the action needed to attain my objective. Furthermore, I noticed the fact that my unwillingness to look in the mirror, my fear of customers, and my lament over human relations in the hair salon happened not only to neurotics. Most of my seniors were younger than me. A nervous woman having strong self-assertion and vanity might not have applied Morita's "purpose orientation," and might have failed.
The sixth year, I finished my intern course without incident, and I passed the state license examination. After that I took further training, and now I am teaching young people. Learning techniques makes the most of both material and persons. It is nice to see young egoistic women growing up to become mature persons step by step as they worry about friction in human relations or some other uneasiness. As I joined with young people I was reeducated in my late thirties. My unbalanced and self-centered thought seemed to fade away. I realized that everyone is putting out great effort in their circumstances.
My family comes first, then myself
How do you think I struck a balance between home and career during that time? I had to fight myself after I gave birth to two children. After all my going around in circles in my idealistic world, I admitted that I was the mother of two children, that I was a married woman, and that I was born a woman.
There was no getting around the fact that I had given birth to two children. They were only infants who could not live by themselves. I didn't think that I had been gifted with talent great enough to abandon my duty to take care of my children. Therefore, as a result of my pondering the matter, I concluded that to look after my children would be my first responsibility. Child-rearing and housekeeping should be put ahead of any attempt to make use of my own ego needs.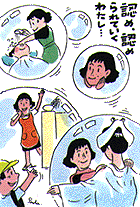 Morita's principles include no grumbling. I devoted myself to housekeeping and then my own world. When I obtained a beautician's license, my mother praised me, saying "You made it." My husband used to remark that he had neither intended to marry a career woman nor thought that he had done so. So he did not overlook any negligence in my housekeeping. However, his mind seemed to begin changing after I became a beautician. Ten years passed after I started my career in the world of kimono. I found that I was recognized as a professional beautician and kimono dresser by my family and by society. Such fulfillment of my desire to live a better life had produced a reduction of my mental fixations. Many years of good effort had brought the social recognition of the significance of my existence and a proper fulfillment of my desire as well.
Morita vitalizes the self
When I was a child I lost my grandfather and my father and, finally, the house in which I was born. As a little girl I used to gaze on people's hidden quarrels and conflicts. I was afraid of others largely because I did not want to be hurt by them. So I chose to close my heart like a shellfish closes itself. However I came to realize that we affect one another. When I was under mental treatment with emotional wounds from my childhood, I encountered many wonderful people. I found that I was changing a great deal under their influence. As long as we live, we will never be able to avoid interaction with others. We should make an effort to get along with each other without fearing to cause pain and sharing our small experiences. My childrearing days are coming to end. One of my children is a university student, and the other one is in high school. Both of them are taller than me. Ten or so years ago I used to try hard to avoid suffering from illness until my children grew up. Furthermore, I worried that my nervousness would be passed to my children. It is natural that they have some resemblance to me because I gave birth to them and brought them up myself, but there are other factors involved. They are not duplicate copies of their parents, but they have their own independent personalities. I should not have had so much concern about them. Looking back, the knowledge of Morita Therapy has led me to this way of living. If it had not been for my encounter with Morita Therapy I would probably have ruined my health, sacrificed my home life, or given up everything to throw all my energy into realizing my own dreams. During my practice in the past I frequently recognized my physical and mental limitations. But I always survived the crisis thinking about what is important and what to do about it in accordance with the Morita method. For serious questions about to how to live and for miscellaneous matters of daily life Moritist thought about influencing emotion by taking action functioned as both accelerator and brake in different circumstances.
Self-expression after acceptance
When I realized my limitations, I accepted the various emotions arising in my mind and the external reality as it was and employed Morita's solutions as a guide in my life.
Referring to this acceptance or receptivity I think that from my study of kimono I learned that the Japanese spiritual culture has something in common with Morita theory. For example, a woman's soft body can be enveloped in a straight line, linear-cut kimono, and the kimono-clad figure appears to express itself clearly. Such expression may involve patterned crests or small articles and accessories, but they are not what I am referring to now. Japanese kimono has a long history, and is a little different in sense from Western clothes that are cut in curved lines to express clear proportions. Setting aside any judgment about which of the two is better I have been impressed that tasteful self expression can be manifested by the kimono. With a desire to be emancipated from various conflicts, I had desperately practiced Morita Therapy with the result that I found myself in harmony with things around me. If you are now distressed by fixations you must be trying hard now to overcome them. You may be going through hardships in the practice of Morita Therapy. But please continue on because neither humans nor the world have abandoned you.